Coast & Country Tennis
Gosford Tennis Club working in-conjunction with Coast & Country Tennis, offers a wide variety of coaching programs for juniors and adults of all ages, experience levels and with a focus on fun and friendly sportsmanship. 
Established by our Head Coaches Alex Fielding and Jonathon Cooper, Coast & Country Tennis aims to encourage and engage individuals on the central coast to reach their maximum potential in a supportive and thriving environment. The boys bestow a wealth of knowledge and experience with help from fellow coaches Brad and Tom to cater for all ages, abilities and group lessons.
TERM 1  COACHING DATES; MONDAY 1ST FEBRUARY – THURSDAY 1ST APRIL 2021.
Term 1 2021 will be a shorter coaching term due to Easter Break at the end of term.
FOR TERM 1 ONLY, Term prices will be as follows;
Hot Shot Classes Monday – Thursday Term Fee (9wks); Blue, Red and Orange = $135.00. Green and Yellow Classes = $180.00
Hot Shot Classes Friday & Saturday Term Fee (8wks) ; Red and Orange = $120.00. Green and Yellow = $160.00
Following the easing of covid 19 restrictions, under advice from Tennis NSW, Coast & Country Tennis are able to offer a modified program whilst adhering to social distancing rules.
• Bookings are essential.
• Students must bring their own racquets and water bottles as we are unable to provide them.
• Please use hand sanitiser where provided
Please contact the club on 4325 2921 if you have any questions or require more information.
Hot Shot Coaching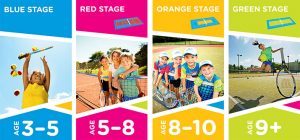 ANZ Hot Shot Coaching is a modified tennis program designed for kids to  years and under to participate in a sport they can play for life. These classes are structured group lessons where kids will learn and develop their tennis skills and shots, agility skills, flexibility and speed, making friends and enhancing their social skills along the way. Classes are divided based on age and skill levels into four stages; Blue, Red, Orange & Green.
Development Squad Training
Development Squads are devised for players eager to maximise their tennis potential and train against other advanced players. Ideal for competition and tournament focused players who will gain knowledge and skills to apply into their game both on and off the court.
Squads are divided into 2 separate groups.
Junior/ Advanced Development 1 (invite only)
Development 2 & Green Ball Squad
Adult Classes
Designed  for those aged 18+ to get out and enjoy some social interaction, physical activity and build-up their skills and fitness
We offer a variety of classes;
Adult Drill and Point Play – structured coaching session for players looking to work on specific aspects of their game and learn new skills, tips and tricks or just enjoy a good workout hit with other players
Cardio Sessions – the perfect way to get your heart pumping and feet moving. Cardio Tennis incorporates tennis, skills, fitness and agility in a fun, fast paced environment with the perfect pump up playlist blasting in the background
Private Lessons
Structured one on one coaching with a greater focus on technique, court movement and tennis knowledge.
To sign up for a program, please contact us or enquire at the club.